In Conversation With Finisterre's Full Time Wetsuit Recycler
Creating the first recyclable wetsuit: #wetsuitsfromwetsuits.
Interview by Rachel Buchanan
Images by David Gray and Abbi Hughes
Last summer, we made a position available at Finisterre for a full time wetsuit recycler. Our ambition is simple; we are committed to finding a way to make wetsuits from wetsuits. The problems is huge; everybody has a pile of old wetsuits in their shed/garage/back of the car that they don't know what to do with, and there is no real clear recycling solution. Heavyweight scientific input comes from the University of Exeter's re-manufacturing department, who are working with us on this exciting journey.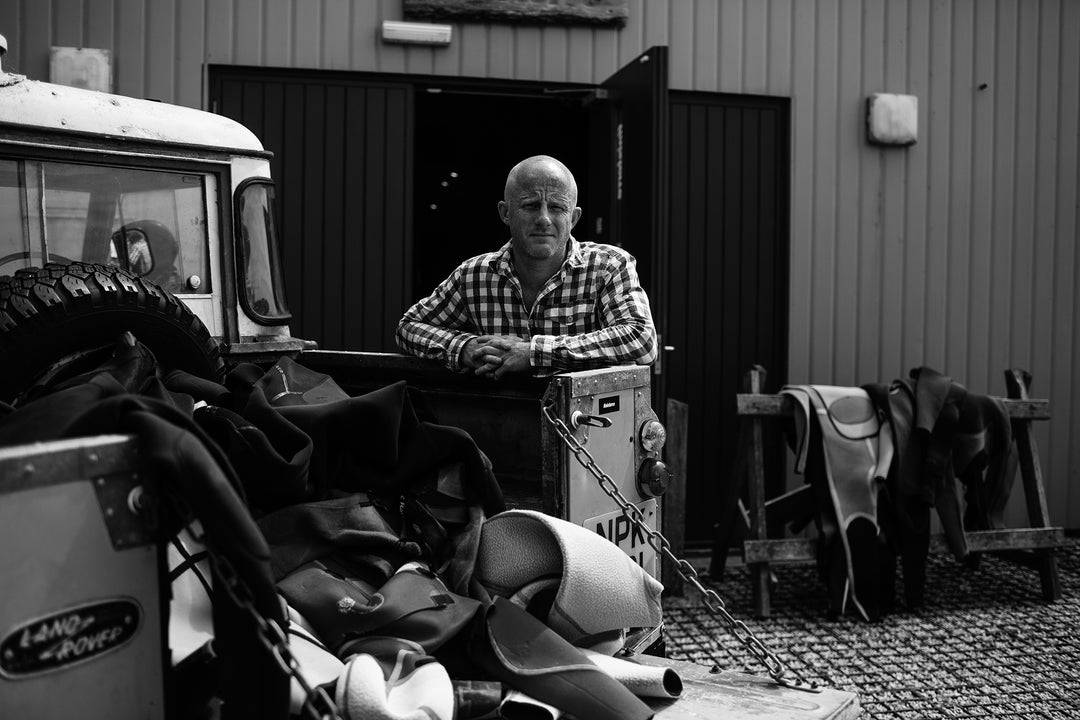 We were overwhelmed with applications as we sought a free thinker to take on this challenge. After a remarkable application process, we chose Jenny Banks as the inquisitive mind who could challenge the status quo and she started in the workshop at the end of November. We caught up with her to hear more about how the programme is already unfolding and the ambitious plans for 2018.
Finisterre must be the only brand that has a dedicated full time wetsuit recycler?
Yes, I think we are. I feel a good mix of excitement, motivation and trepidation – with a huge sense of responsibility. It's a full-time position so I'm going to be living and breathing wetsuits.
Why is this role so pioneering?
Globally, 350 tonnes of old neoprene lies around unused every year, probably headed for landfill. There are 500,000 surfers in the UK alone replacing their wetsuits approximately every two years, and surfing makes up only a small percentage of the wider watersports (and wetsuit) industry. Generally derived from non-renewable sources, and currently very difficult to recycle, neoprene waste is a huge environmental problem.
Whilst there have been some good ideas around the re-use of wetsuits including mouse and yoga mats, these ideas don't really address closing the loop on wetsuit manufacturing and that's where we're focusing our efforts. It is genuinely pioneering as we don't know where it will end; we know there is a problem and we believe in using innovation to provide solutions to create more sustainable products. I'm going to be working side by side with founder Tom Kay, who got the programme off the ground and for whom this is a cause close to his heart.
This role is really important to Finisterre because we are committed to our founding pillars; to product, to the environment, and to people, with every product we produce. We invested in a whole winter of testing before we launched our first wetsuit so we could gather field tester feedback and make the best suit possible. The suit has met its design brief – warmth and durability, but now we're ready to take on the next challenge - looking at the recyclability of wetsuits.
What is circular (or closed loop) manufacturing?
Very simply, circular manufacturing just means that the materials (and resources) that make up a product can be disassembled and where necessary, reprocessed, to provide the raw materials for that product to be made again. Ideally, this cycle of materials can happen over and over again and zero material waste is therefore produced.
This process itself is often not challenging but the disassembly of materials within a product – particularly something as complex as a wetsuit – is often not easy and therefore not cost-effective and viable to do.
Can you tell us more about the relationship between Finisterre, you and the University of Exeter.
I'm full time at Finisterre but split my time between the Wheal Kitty Workshops and Exeter University. It's a great partnership because we're bringing together design innovation, science and engineering and commercial know-how to design for sustainability. We really believe these three elements are vital in tackling this environmental problem.
We've got a strong relationship with the University of Exeter and are already working closely with Professor Oana Ghita and Paul McCutchion who work as part of the CALMARE (Centre for Alternative Materials and Re-manufacturing) research department at the University. Oana and Paul both have a huge amount of technical knowledge and experience of material recycling, having worked with many UK businesses to develop re-manufacturing processes and products.
We also have incredible access to the engineering labs at the University which is where we'll be carrying out our material testing and building our wetsuit-specific test equipment.
Sounds like a great way of tackling a huge problem, but where do you start?!
Yes, it's a huge task but one to which we are committed. Our first job is to fully understand what Finisterre's own wetsuits endure on a material level and identify what is specifically causing, say, the stiffening of wetsuits over time. We are also going to be able to assess the condition of every component of our wetsuits after 1, 2 and 3 years of use, which will help us to identify whether our wetsuits have an optimum shelf-life for recycling.
Once we know how neoprene's properties change over time within our own wetsuits, we can re-imagine them and think about designing for recyclability. No seams, modular, removable linings…all focused on building a suit that can be recycled at the end of its life.
Following on from this, we can start to look at the levels of neoprene degradation in other wetsuits and which ones can be recycled to what level. It would be a huge step to discover a method of neoprene recycling that we could make available to the wider industry.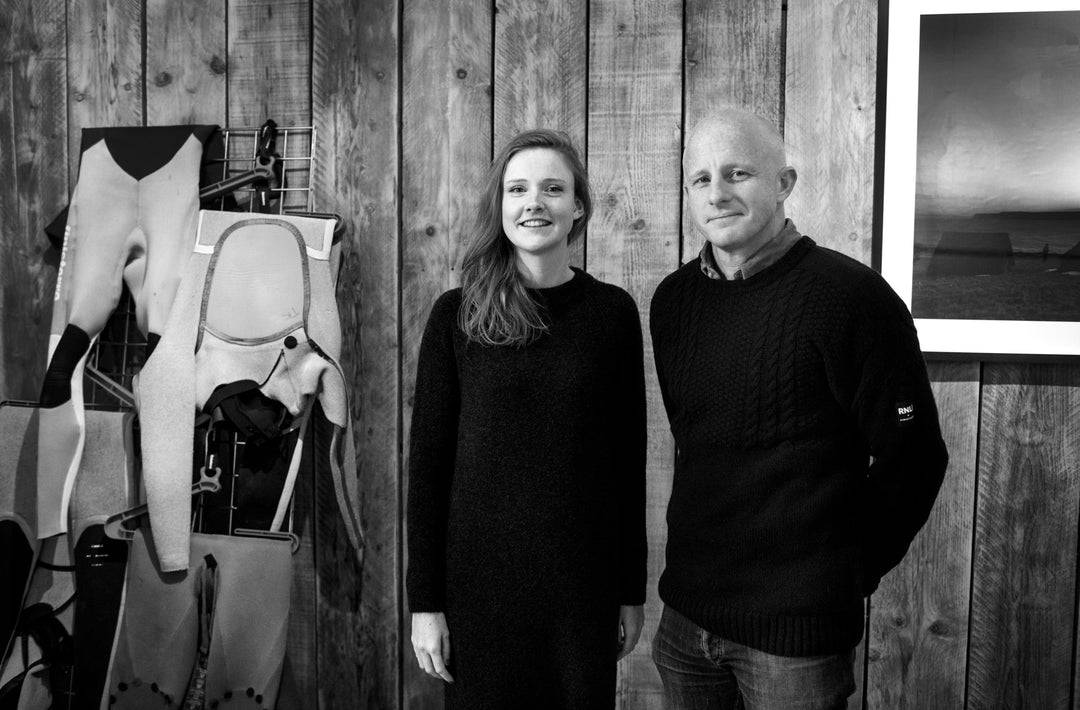 What do you think will be the big milestone moments?
Tom and I think the first milestone will be a wetsuit that can be recycled at the end of its life. Building recyclability into the very design of the suit, to develop the first ever recyclable wetsuit. No-one has ever done this so it's completely unchartered waters, but that's what makes this so exciting.
Will you be making new Finisterre wetsuits suits out of any old suit that is donated?
That would be the ultimate aim but it's probably some time off. The rubber recycling industry is well established and yet still no-one has managed to cost-effectively manufacture recycled neoprene, as good as virgin neoprene, that can withstand the extreme conditions of cold-water surfing. Neoprene recycling technology is improving but instead of waiting for a breakthrough in the field, we're hoping we can turn the growing tide of chemical neoprene waste being generated by not adding to it.
That's why designing a wetsuit that can be de-constructed into its individual elements – linings, neoprene core, zippers etc. needs to be our initial focus. We have worked with Econyl and recycled polyester in our lines previously so have strong relationships with leading material recyclers already and want to make use of the fantastic recycling infrastructure they provide.
How is the Finisterre wetsuit made by this programme going to be different to the eco-alternatives already on the market?
Right now, the surf industry (us included) is tackling the environmental cost of neoprene in one of two ways; either by substituting neoprene completely and favouring natural sources of rubber, or by producing wetsuits that last longer. We have our first eco suits launching next Spring/Summer and all our suits are built with durability in mind.
Whilst these are a massive step in the right direction, there is still no recycling option at the end of an eco-suit's life. And that's why we're focusing on designing for recyclability and introducing the first recyclable wetsuit that we hope will help lead the industry further forward towards circular manufacturing.
When do you think we will see the first of these recyclable suits?
We're aiming to launch the first ever recyclable wetsuit in Autumn 2018 as part of a tester programme to get feedback on performance and durability. Exciting times!