John Sweeney: Founding Coastal Queer Alliance
Surfer and hairstylist John Sweeney on uplifting Tofino's queer community one surf meet-up at a time.
Words by Nora O'Malley
Photography By David Gray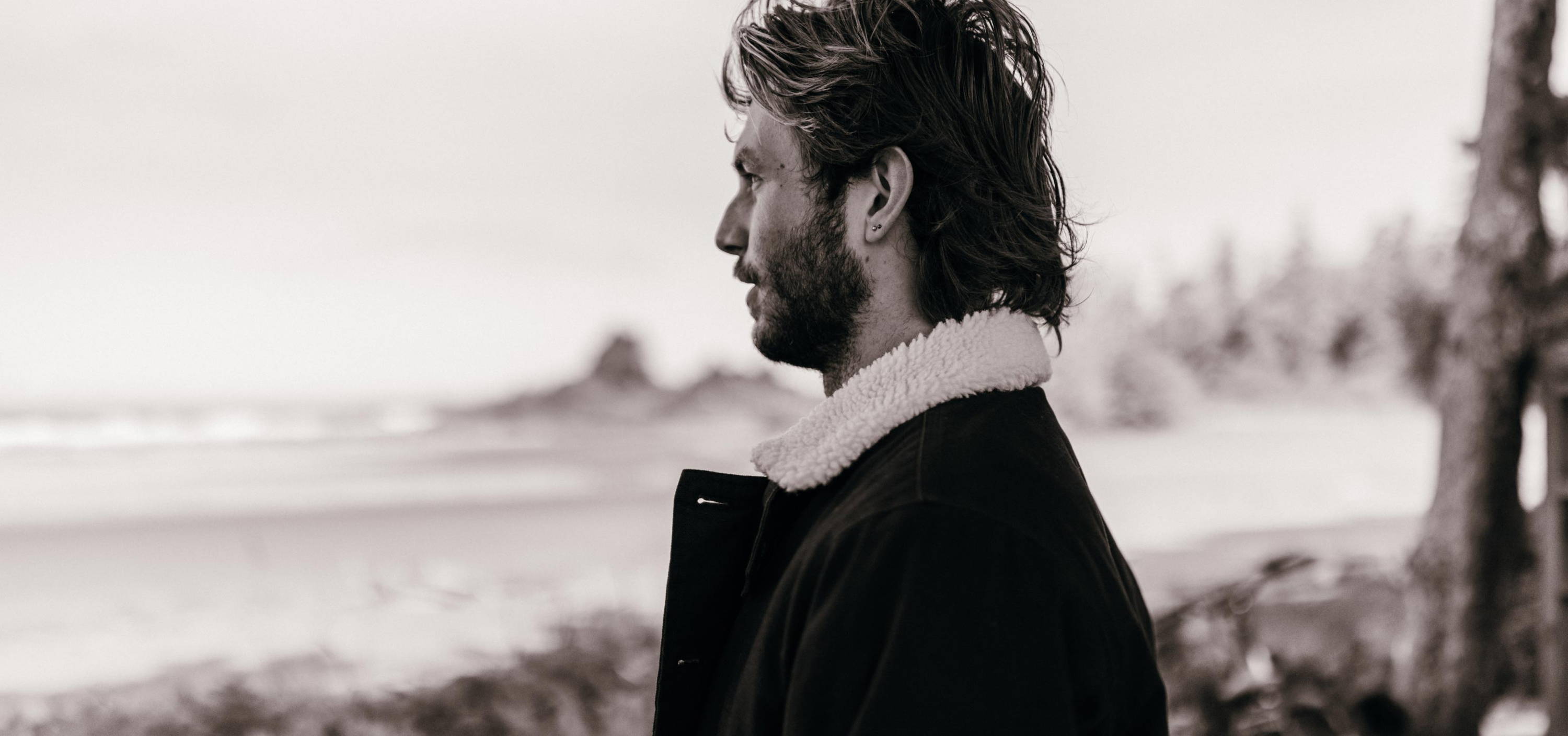 Just as John Sweeney starts to get into the good stuff, his 1pm appointment breezes in and interrupts.
"Can you actually come back in like 15 or 20 minutes?" John asks his client. Now, brushing off a client might not be your typical service industry manoeuver, but this is Tofino, where time seems to matter less. The one winding road in and out of town, through the mountains and prone to closures or delays, makes you quickly adapt to going with the flow.

"People love to tell you stuff when you're a hairstylist. They love to open up to you and give you the details of their life. I think that when you're being an authentic version of yourself, you attract people who it feels right to accept that information from. It's an honour to provide a trusting environment for people," says the 23-year-old Gen Z business owner and co-founder of Coastal Queer Alliance, a non-profit dedicated to uplifting the local queer community.

John, who grew up in Saskatoon, Saskatchewan, on the Canadian prairies, had his first glimpse at the long road ahead to become a surfer during a high school field trip to California. He's since paddled out in Bali, Sri Lanka, Philippines, Hawaii, Australia, Central America, and Mexico, and by the time he made the permanent move to Tofino, he says he was ready to settle in, do hair, and just surf.  
"I bought a camper and lived in it for 2.5 years. That provided me with the security I needed to start building my life on the West Coast."
In the summer of 2020, he opened his creative hair studio Johnny's Chop Shop out of a converted 20-foot shipping container at the end of Tofino's Campbell Street.
Cedar trim accentuates the styling station, a quintessential cold water surf photograph of a barrelling wave pops against the white paneled walls, and two giant windows create an open, backyard vibe.  

His antique barber chair was plucked from friend and mentor Rhonda Lily after she bid farewell to the Cedar & Rose Salon — his first Tofino employer and one of the many small business closures that came around because of the pandemic.

"Getting to work at Rhonda's salon that first year I lived here really expanded my horizons, the culture definitely prioritized life over work. I felt so lucky to be part of that," John shares, noting that working for Rhonda was a breath of fresh air after being in Vancouver's corporate hairstyling industry where he felt held back and taken advantage of, what some may call "paying your dues".
"It just wasn't the world for me. My generation has different expectations and standards. I quit both the Vancouver salon job and beauty school with no regrets. I learned so much through that experience and it really motivated me to get to Tofino," says John.
While John began living his dream life surfing and cutting hair, he jokes that the dating apps for queers in the rural tourist town were about as empty as the winter line-ups.
Craving connection and community he once had in a bigger city, the idea for Coastal Queers was conceived with friend Sully Rogalski during those doldrum COVID closeout years of 2020 and 2021.  

"In our short time here, we hadn't noticed any visibility of queerness existing. I realized I didn't know what parts of myself I wasn't even expressing because I was just used to blending in with the dominant surf culture here," he explains.

Now riding into its third season, Coastal Queer Alliance hosts a full calendar of events, including monthly Queer Surf meet-ups during the summer. On these fun summer nights, Coastal Queers, in partnership with Surf Sister Surf School, make access to the waves easy: wetsuits and surfboards are free, instruction is free, and transportation can be provided if needed. John says when they started Queer Surf, only a handful of people would show up.

"Now, it's a whole production. It's just way more streamlined and seamless. People come all the way from other places just to come to Queer Surf. It's super heartwarming. We've had over 50 people at some of the surfs," he smiles, adding that Queer Surf is redefining the lens of what a surf event can be.
"It's not about competition, it's not about surf culture at a greater level, it's truly about our community."
Coastal Queer Alliance hopes to eventually take Queer Surfs to a deeper level — queerness is a journey for people, as John says.

"We push people into waves until they stand up, but we also want to create space for people to come together to talk about the politics behind surfing, the history, and ways to make the sport better."
During our time in Canada, we were grateful to be travelling across a diverse number of First Nations' traditional territories.
We want to acknowledge these First Peoples – past, present and future – as the original stewards of these lands and waters since time immemorial.