Rachel Dickens: The Rising Tide Surf Team
Rachel Dickens, co-founder of Canada's Indigenous youth surf team, talks about rebuilding the youths' connection to ancestral waters and lands.
Words By Nora O'Malley
Photography By David Gray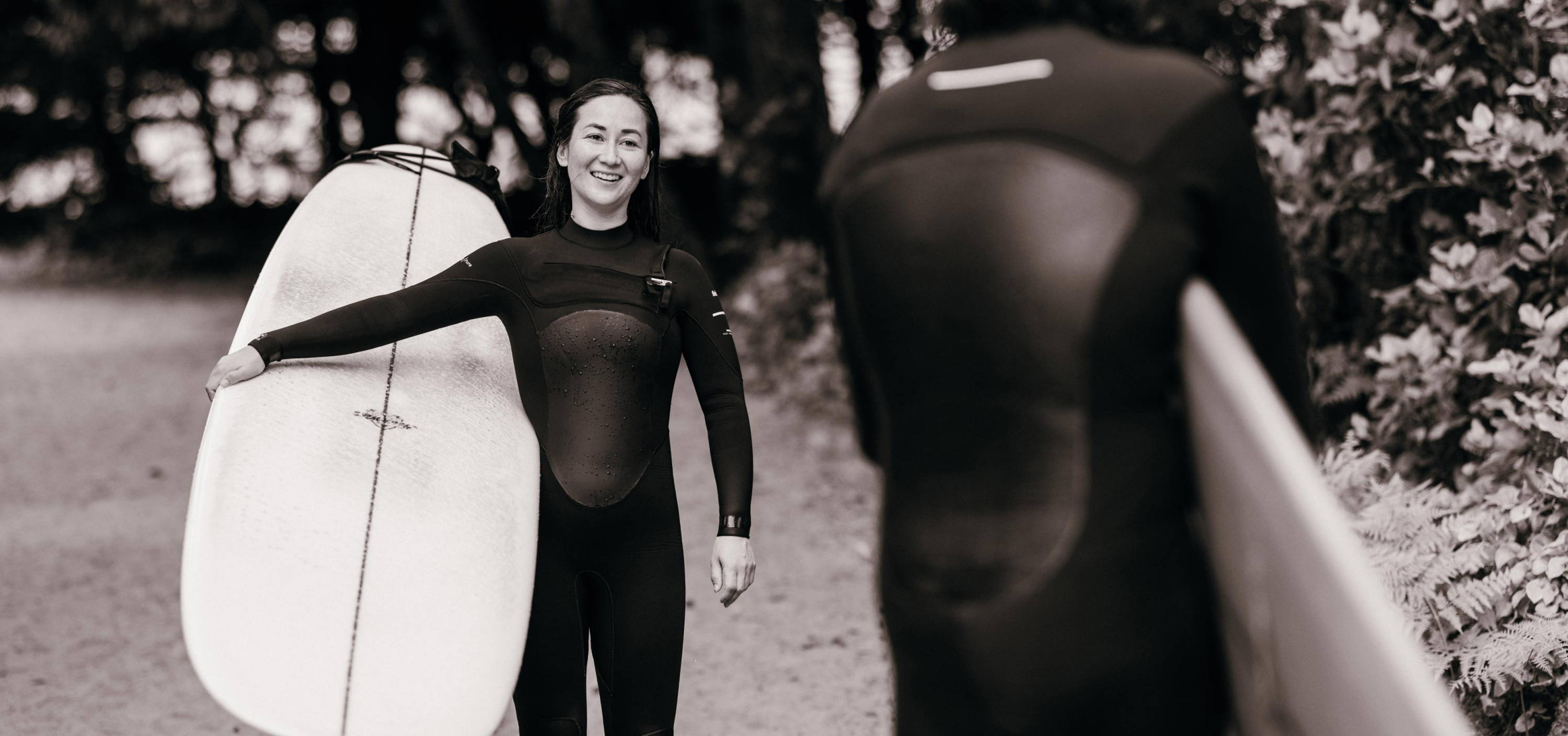 One day when the waves were really small, the kids started ditching their boards and goofing around in the water, Rachel Dickens recalls.
They were draping seaweed on their heads like hair, diving off the surfboards, and just didn't want to come out.

"That's when I knew this was really important and more than just surfing," says Rachel from her home on yuʔatu (South Chesterman Beach), Načiks (Tofino).
There has been a huge swell of community support since co-founding Mułaa (Rising Tide) in 2019 with youth educator Alyssa Fleishman. The youth surf club has grown from five participants to a point where sometimes there are 18 kids out.

"But Rising Tide wasn't even our idea," Rachel confesses. "It was the youths' idea. They wanted to go surfing."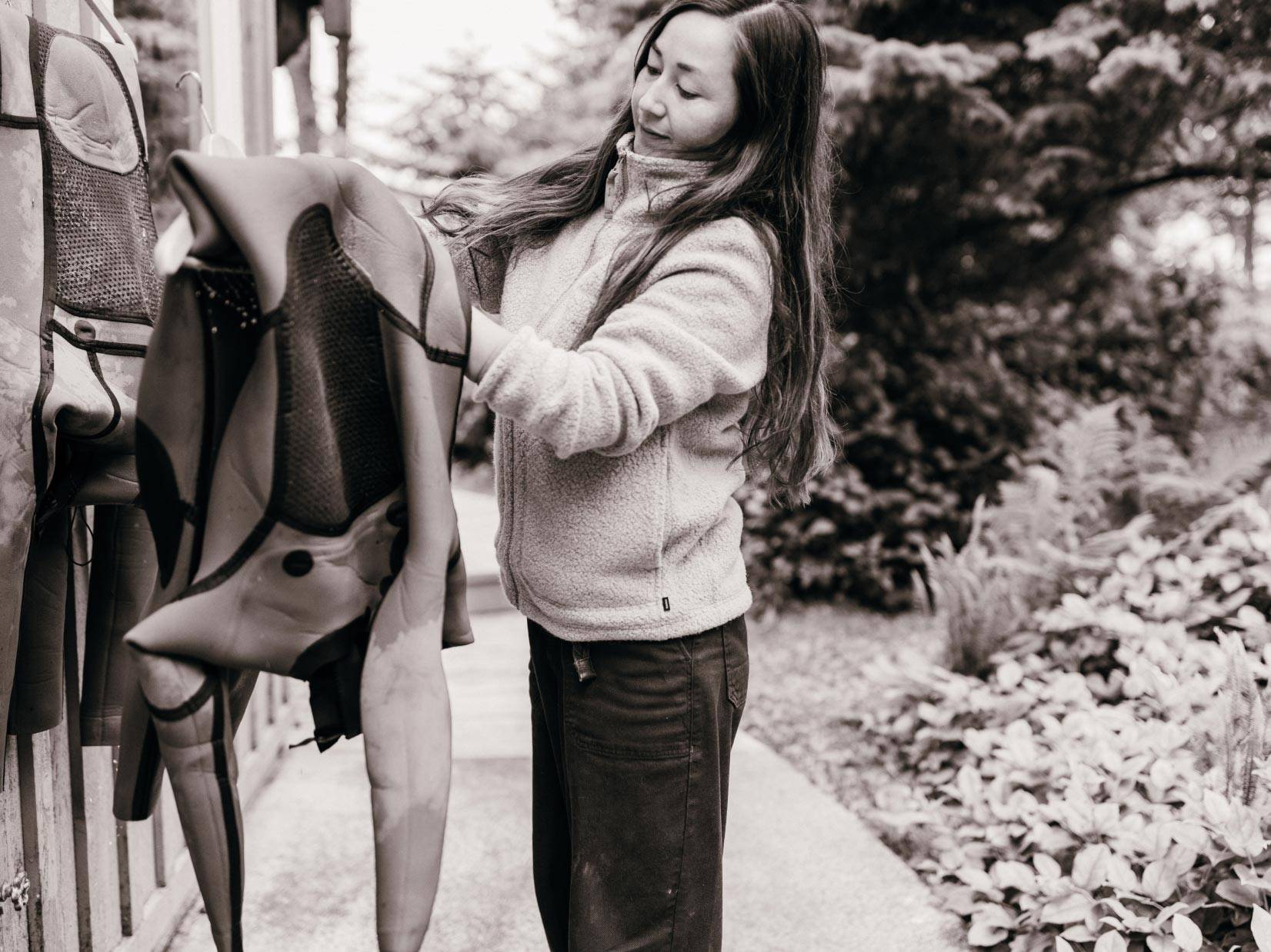 ... prepping wetsuits for the morning surf.
Historically, surfing has not been accessible to Indigenous Peoples under colonialism.
Rachel says compounding factors like the dispossession of land and intergenerational experience with Indian Residential Schools made it all the more difficult for Indigenous children to get into the sport.  

"Indigenous Peoples have been pushed onto reserves and haven't had access to these beaches that they stewarded since time immemorial. And now these beaches are filled up with mansions and resorts, making them even more inaccessible," Rachel explains, adding that the way surfing was promoted by brands also had a lot to do with it.

Rachel, who is a Registered Dietitian and Certified Diabetes Educator, spent nine years working and doing her Masters on the Gold Coast of Australia — and didn't surf once.
"It's so bonkers, I know. It just didn't seem like something that was accessible to me, like something that was even an option. None of my friends surfed. I didn't see people like me in the water. I didn't see girls. Everyone looked the opposite of what I look like."
It wasn't until she moved back to the West Coast of Canada in 2019 that she was inspired to paddle out thanks to all the happy vibes she caught from the female surfers in Tofino.

"I still didn't see any First Nations faces in the water though," says Rachel, a mix of Indigenous-Hong Kongese heritage and a member of the La̱x Kw'alaams Band, a Ts'msyen Nation located 30-km by boat from the northern coastal town of Prince Rupert where she grew up.

After experiencing first-hand the lack of diversity in the line-up and hearing the calls from local First Nations kids to try surfing, the concept for a youth-led Indigenous surf club was born.  
Rising Tide was founded with a simple agenda: to have fun, feel safe, and foster self-determination.
The club is open to all Indigenous Peoples, and currently operates from the unceded, ancestral homelands of the Tla-o-qui-aht First Nation, an Indigenous nation located within the municipality of Tofino, also known as Canada's Surf Capital.

"Rising Tide wouldn't be possible without the partnership we have with Tla-o-qui-aht First Nation's Education Department," Rachel notes, adding that the language department and cultural workers have also come out to lead an opening circle.
"These youth are the original stewards of their lands and waters. With more opportunities to re-engage with their landscapes in a very intimate way, like surfing, this will foster love and care for their environments and they will continue to protect these places for future generations."
She went on to encourage non-Indigenous people to learn the history of a place before visiting. So much of Canada's Indigenous surfing history has been lost due to over 100 years of colonization.
For those planning a cold water surf trip to Canada, Rachel says a good starting point is to familiarize yourself with the Truth and Reconciliation Commission Calls to Action.
Moreover, she imparts that much of the land in B.C. is unceded to the Canadian government, and that First Nations peoples never surrendered their Aboriginal Title and Rights to their lands and waters.

"Much of what we have lost has been taken away from us without consent. The disparities our people face in health, education, and income can all be linked back to land dispossession. Nations, including my own, and the Tla-o-qui-aht First Nation are working to reclaim spaces that we have been historically excluded from. This is essential as we work to revitalize our culture, and our identity as Indigenous peoples," Rachel says.

She suggests that visitors to the tourist town of Tofino seek out First Nation-led businesses, be conscious of their impact on the lands and use precious resources while they are here, and take the time to learn about the colonial history of the place.
"Our history is much longer than 150 years. Archaeological evidence has shown we have inhabited the Coast for at least 16,000 years."
One way visitors can start their Indigenous knowledge journey is by learning the Nuu-chah-nulth place names around the Tofino area. Rising Tide has published a map of the beaches in conjunction with the Tla-o-qui-aht Tribal Parks, which they hope will encourage the use of the Nuu-chah-nulth names for the surf breaks.
"We all want change to happen really fast, but meaningful change takes time."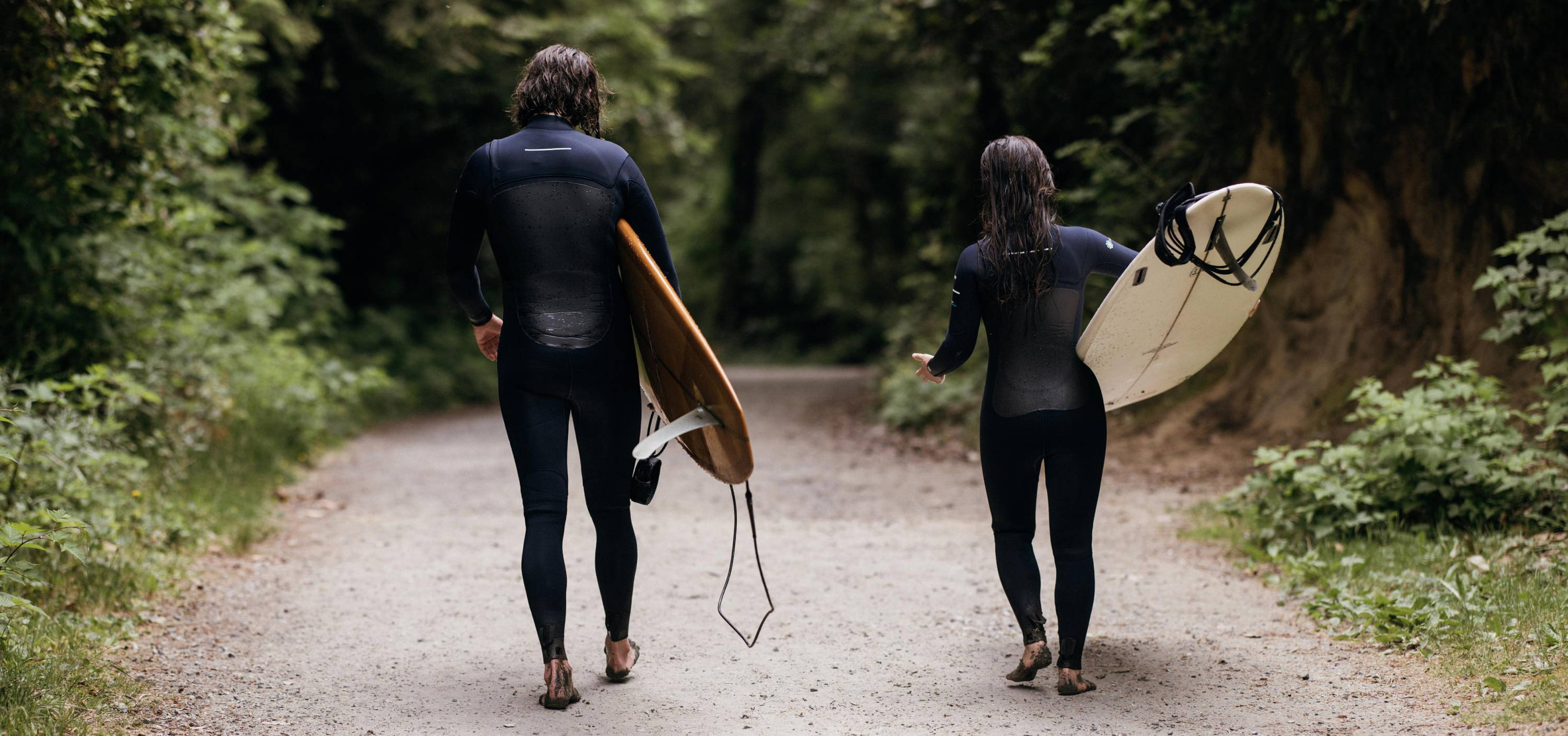 Indigenous Language Q&A with Rachel
How do you say Mułaa?
Mułaa (pronounced mu-thla) translates to Rising Tide in the Tla-o-qui-aht First Nation language. For us, it signifies the rising up of Indigenous youth and peoples.

How do you say surfing?
Siiksaanapšiił (pronounced seek-saw-nup-sheelth). Siiksaana refers to going in with the waves, and šiił refers to doing something over and over again.

Rising Tide practices at the northern end of Long Beach. What is the Indigenous name for this spot?
We surf at Ḥisaaw̓ista (Esowista), which is one of the communities of the Tla-o-qui-aht First Nation.

What does Esowista mean?
I have been told that Ḥisaaw̓ista (Esowista), where the youth surf, translates to 'clubbed to death'. There is a very cool story of Tla-o-qui-aht strength and determination in that name. Ask a Tla-o-qui-aht member on your next visit to Načiks.
During our time in Canada, we were grateful to be travelling across a diverse number of First Nations' traditional territories.
We want to acknowledge these First Peoples – past, present and future – as the original stewards of these lands and waters since time immemorial.
Read the full land acknowledgement.